I've known about Mayhew for years. We often meet members of their wonderful team at events, and we've attended their dog shows over the years. We recently organised to meet up at their Animal Home for a visit, and I now realise the extent of their work, not only with the animals they care for, but also with our London community, and around the world.
My first question to Duschanca (who was kind enough to show us around) was: "What does success look like to Mayhew?
She replied without hesitation: "Keeping the pets and their humans together as much as possible for as long as possible is the our main goal."
This makes Mayhew a wonderfully proactive charity.
What I love about Mayhew's ethos is that they work hard (that, all shelters do), and deal with their challenges by tackling the problem at the root. What they want to achieve is fewer animals in shelters, so they've created a string of smart and targeted programmes to make sure people can keep their animals with them, promote happier relationship between humans and their pets, control population and keep cats and dogs healthy in London and across the world.
So, amongst all of the programmes Mayhew has put into place to reduce the stream of pets having to be taken into shelters every year here are just a few:
They provided support and foster care for dog and cat's owners going through personal crisis. Imagine what it would be like to have to refuse a hip operation just because no one can look after your dog at home.
Many people in difficulties were able to look after themselves, and, once better, to return to their beloved cat or dog. We know how pivotal having a pet is to recovery, from a hip operation or indeed from drug addiction. They have wonderful foster carers constantly on hands to support this really wonderful project.
Also, thanks to their courageous and dedicated team, Mayhew are managing to control the feral cat population in London; through picking up feral cats, giving them a full check-up, neutering them and returning them to their neighbourhood.
Furthermore, Mayhew's Animal Welfare Officers have organised and run talks with schoolchildren, youth groups, and adults in the community. Being in touch with family and dog owners early also means that advice can be given straight away, before a simple behavioural problem can become a huge burden owners couldn't cope with anymore.
For the last 17 years, Mayhew has worked with local charities and community organisations to support the homeless and their dogs across London. That bond and relationship with their dogs is so important for many homeless people, and Mayhew has helped with training, vet care and so much more to ensure that these dogs are also looked after.
I was particularly touched by a wonderful programme called TheraPaws. Therapaws is Mayhew's visiting animal therapy programme. We know that encouraging social interaction between pets and older people can truly make a huge difference to all of the ones involved. In 2016 alone their volunteers and their dogs made well over one thousand regular visits to care home, care centers and palliative clinics.
Mayhew's Community Vet Clinic and Vet Training Facilities have been in operation since 2006 - with an extension finished in 2016. The extension includes two operation theatres, a dental theatre, a cat consult room, a dog ward for post operation care, and all the extras a great Vet Clinic should have, and that of course includes an amazing team of carers.
The animals there are truly amazingly well looked after. The kennels and catteries are cleaned and scrubbed daily; they have a wonderful sensory gardens to promote an enriched environment for dogs, and another one for cats. The gardens are also a great place for the dogs to meet potential new "parents" off the lead, at their best. Because of course after listening to all this, it's easy to forget that Mayhew also does rescue, foster and rehome. They successfully organised 94 adoptions last year.
Mayhew opened in 1886, yes! 131 years ago! Originally called Home For Starving & Deserted cats, this charity is thriving 24 hours a day, 365 days a year.
They stayed open right through both World Wars, and supported with disposing of pets bodies during London's bombing.

If you think that's amazing, wait! There is more: Mayhew also has a growing international presence in Afghanistan, Georgia, Russia and India.
In Afghanistan for example, Mayhew devised a long-term strategy to implement mass rabies vaccination and sustainable dog population management programmes in Kabul. In 2016, their international Afghanistan Country Director, Dr Mohammadzai, provided veterinary training and assistance to Kabul University and local welfare organisations.

If you want to learn more about Mayhew wonderful work internationally, check here
Since seeing all their amazing work we have decided that we will be sponsoring one of their Dog Rooms for years to come.
What can you do to help?

You can simply give money, through sponsoring, donating, fundraising, etc.
or click a button below to find out more...
If you don't want to give money but want to help, donations of Old Towels, Dog Toys & Food would be gratefully received
We are also supporting Mayhew through the sale of Beautiful Joe's treats.
For every bag you purchase, the same amount goes to Mayhew, Simple!. Get buying...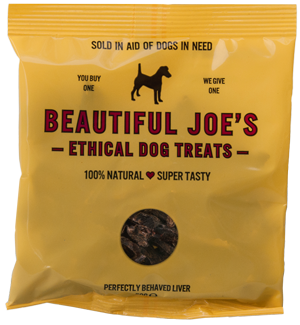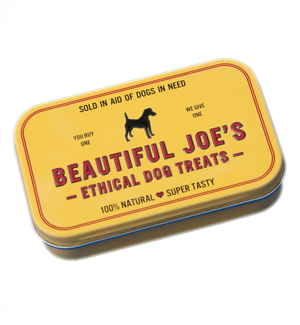 Beautiful Joe's Treats & Tin